For the last few days we have been working on the Human Eye. We like to do all of the Hands-On Activties first, then add some written work and research to complete each section ofthe project.
So far we have made a large Layer Diagram of the Eye:
A Picture of all 3 boys' work.....
A Close-Up of Ratchet's Diagram....The Outer Eye
The Cornea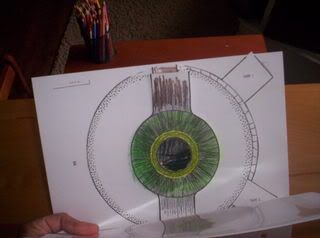 The Iris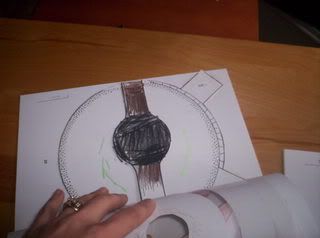 The Pupil
The Lens and Retina
Adding the clear plastic to the Cornea really helped the boys visualize what was inside their eye without poking each other in the eye..... always looking for ways to enhance the learning experience while keeping it safe.
The next day we did a mini slide diagram of the Human Eye...
All 3 boys did one of their own.... still not sure where I am going to add it in their binders so it is in a clear page protector for now.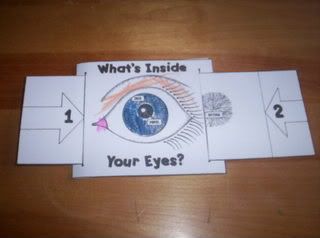 Close-Up of Halo's Diagram... showing the Iris and Pupil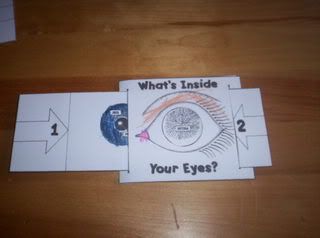 .... the Retina
Today we did some 3D Models of the Human Eye....
Daxter's
Ratchet's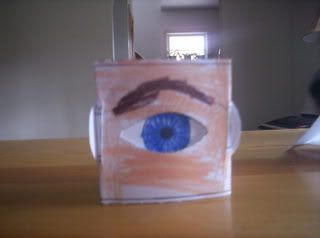 Halo's
Side View... sort of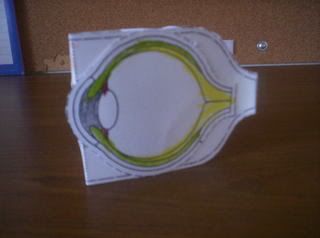 Views of each side
The above projects came from Dinah Zike, Pocket Science - The Human Body & Scholastic's Easy Make and Learn Human Body.