Well, Daxter (and the other boys) are asleep so now is my time to relax..... and what do I do? I blog :)
I have been meaning to get some pics of our "school room" on here, so now is my chance.
I still do not have a full room shot because , well, it was a mess.... I also did not take a picture of Daxter's desk, or the wonderful bulletin board above it because I had just taken down all of our winter decor and I am still in the midst of putting up some more seasonally pertinent things. Those pictures will come later on.
So here it is....... where it all happens...... ok, not always.... sometimes we end up in the kitchen, other times we end up at my desk, or dad's..... and so on. When there is a moment to learn, we grab it.... doesn't matter where we are.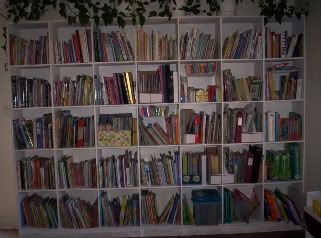 The bookshelf... or should I say wall? Would you believe I still do not have enough room for all of our books?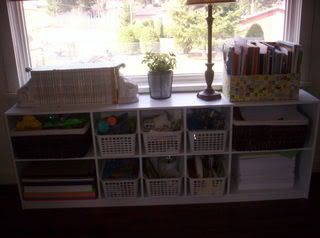 The Creation Station - full of all sorts of craft supplies.... paper (of all sorts), stickers, stamps, stencils, fancy scissors and more! Keeps the kids occupied for hours.
The Manipulative Corner..... in here you will find puzzles, tangrams, math counters, science tools (human heart 3D puzzle, 3D skeleton puzzle etc.), lifecycle characters (butterfly, frog, ladybug, ant), dominoes, dice, musical instruments and more!
On the top shelf are some teacher resource books to use with some of the manipulatives, science kits and a few games.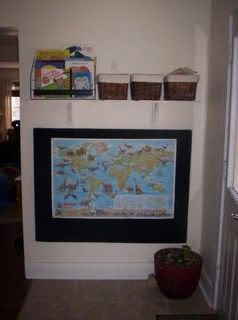 Our Felt Board. Right now it is a map board as you can see... ...very versatile. The shelf on top holds some story books that I have made felt stories for and the baskets hold more than school stuff - trust me.... from the kitty's harness and leash, suntan lotion and the latest... bug spray... they are a catch all and I like it that way :)
Hope these give you some ideas, and if you can come up with any new ones.... please pass them on to me... I am always looking for ways to organize all of our schooly stuff because it seems to multiply like crazy!