Halo knows most of his alphabet to see them (although his rendition of the ABC song is quite unique). So I did not want to spend a lot of time on all of the letters he already knew nor did I want to put together something that would only be good for the Alphabet (that's a lot of cutting and pasting!). So I came up with what I hope is a good idea.
Halo's ABC Lapbook in a Binder.
I started with a rainbow of 26 cardstock pages. Each letter starts of with one page. The letters he already knows get only one page. The other letters that he needs help with will get as many pages as he needs to learn it lol! All of the pages for a letter will be the same color... to keep it organized for Halo and to satisfy my OCD tendancies.
I hope to add some early reading portions to each page as well..... there is a mini reader for each page so far but I may add more later. The joys of lapbooking... you can always add more.... it's when to stop that's the problem!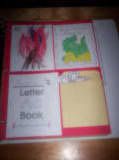 First page - letter Aa
Top left mini book..... it's a reader.... we read it BEFORE he colored it lol!
top right mini book... I love these little books so I just had to color them!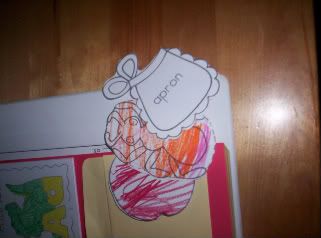 contents of pockets..... little cutout pictures of things that start with Aa, the word is on the back for him to learn
back of first page... printing practice... and more lovely coloring :)