Ok, here's some background information before you continue......
You may recall from
Daxter's Post
that Precious is one of our kitties. She loves to torment our poor bird (who has finally, after 3 years, been named Toasty!) when he is in his cage.
Well, today
Ratchet
and I cleaned Toasty's cage. He managed to sneek out one of the food container slots and well, the rest needs to be told through pictures......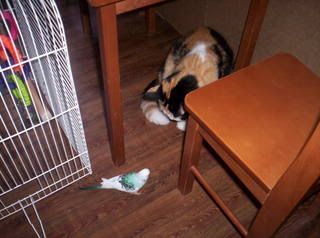 We notice Toasty has escaped.... I am a little worried at this point as Precious is a hunter with several trophies under her belt.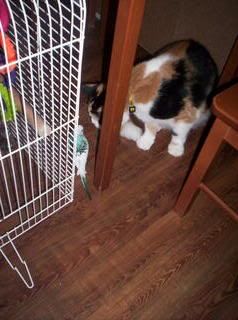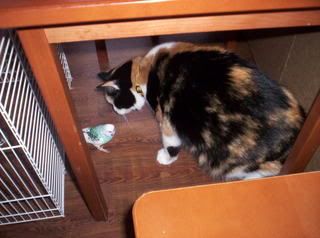 I am no longer worried as Precious seems to be curious, not hungry.
Where's Precious?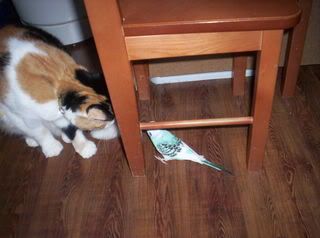 Ooh, found her!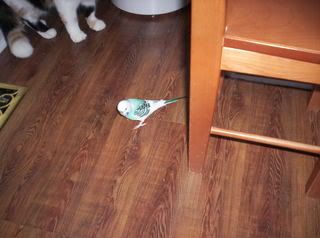 She's gone again! Here Kitty, Kitty.....
Ahhh, there you are..... hiding in a corner.... from a teeny, tiny bird.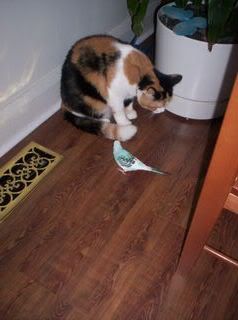 Well, after this shot, Precious jumped through the gap onto the other side of the desk and of course Toasty followed..... this went on for a few minutes until Precious took off under my desk amongst my computer wires and well, I wanted Toasty back in is cage.
Not sure they will ever be best of friend's but hey, at least we know Toasty is willing!